Product Comparison
First Crush

®

vs. the competition
Penn State University's College of Engineering, established in 1896, has a long tradition as one of the country's leading educators of engineers, and holds one of the nation's largest programs with over 380 full time faculty members. The school tested the leading pill crushing systems available on the marketplace as the first step of defining a new standard of care for the healthcare industry.
Over 200% More Fine Powder vs. Competition
– Independent Analysis: Penn State Univ.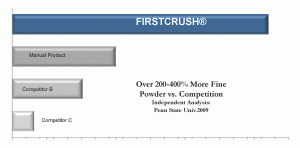 In an article titled "Technology in the Nursing Home" article, First Crush was used as a comparison against other methods: